Find freedom through the force of PV Solar
Pak Solar TRADERS Best Solar Company has been authorized and licensed for a long time. Established in 2010 in Pakistan. Furthermore, Pak Solar Traders is the best solar energy company. Our company has become one of the best and most popular solar energy trading companies in Pakistan.
Pak Solar TRADERS Offers 3 Type of Solar Systems
Off-Grid Systems. …
On-Grid Systems. …
Hybrid Systems . …
We provide a Solar tube well Solution which is a practical and affordable solar solution for the farmers. Hence, solar tube well intended to reduce the water scarcity problem facing the agricultural sector in Pakistan.
Additionally, Solar
pumps are designed to suit the system are designed to provide water supply at any location and remote areas.
NEPRA, in September 2015, issued its net-metering regulations that allow the DISCOs in Pakistan to purchase excess units of electricity produced by the consumers and net them off against the units consumed from the grid. … Solar PV Technology gives access to affordable electricity supply during system life.
Put simply, net metering is a utility billing mechanism available in Pakistan that offers credit to residential and business customers who are making excess electricity with their solar panel systems and sending it back to the grid.
On-Grid Inverters & Solar Solutions
These systems do not need batteries and use either solar inverters or micro-inverters and are connected to the public electricity grid. Any excess solar power that you generate is exported to the electricity grid and you usually get paid a feed-in-tariff (FiT) or credits for the energy you export.
Solis Inverters , Goodwe Inverters, Huawei Inverters
Widely Application
There are several types of Lithium batteries. Here at Pak Solar, we carry what we feel is the best candidate for renewable energy storage. The main advantages of Lithium Phosphate (LFP or LiFePO4) batteries, as compared to Lead Acid for example, are that no maintenance is necessary, they can operate at very low temperatures without affecting capacity, and they are much safer. They also offer one of the lowest lifetime costs per kWh cycle.
Telecom – UPS- Emergency Lighting – Security – Photovoltaic – Railways
Motorcycle – Other Vehicles – Utility- Others
Gel Batteries in Enersys, VISION, Shoto, Sacred Sun, FIAMM, HUAFU, Hoppecke, DYNAVOLT, LEOCH, Coslight. Call today to get the best Battery.Pak Solar
A common term that sales companies and manufacturers use is the 'Tier 1' rating. The Tier rating was developed by Bloomberg New Energy Finance Corporation and is basically used to rate solar panel manufacturers in terms of financial stability. Unfortunately, a Tier 1 ranking does not mean a panel offers the highest performance or quality.
100% Free and unprejudiced Services
Quick, useful Solar and Battery Quote Comparisons
Preferred arrangements over head off to a solar framework installer coordinate
All Over Pakistan, Nation wide solar system installation and more than 50 noticeable installers
Proficient direction on all choices and everything solar
Pick between premium, value focused or nearby installers in your city
Look at battery stockpiling choices
Elite administration of tenders for Solar Farms and Commercial PV ventures
Install Solar Panels by Yourself
We answer all your solar panel questions in one easy-to-navigate Do-It-Your-Way Solar Hub. Ready for total control with more choices and faster payback?
"How Solar System Works"
Solar System in Pakistan is an arrangement of Solar Panels, Solar Inverter and Solar Battery. Daylight hits Solar Energy Panels with particles of daylight called photons and the solar system changes over those photons into electrons of Direct Current (DC) power. The Solar inverter changes over that DC control that utilize as a part of batteries, into Alternating Current or AC power and AC control is the sort of power that run your everything lighting and gadgets like TV, Frieze, AC, Computer and toasters and so on.
PV Panels use to generate free energy from the sunlight and this energy is in the form of solar radiation, which makes the production of solar electricity through Solar Panels and Solar Water Heating (Solar Thermal) to heat water for bathing and washing purposes. Solar energy is considered a serious source of energy for many years because of the vast amounts of energy that is made freely available. SOLAR is the Latin word used for SUN. In Pakistan, there are many Best Solar companies, but Pakistan Solar Traders is one best Solar Company who install and supply many power systems and back power system with net metering and off-grid solar systems.
Free Energy
Solar system in Pakistan is free energy from the sun and this energy is as sun-powered radiation, which makes the creation of Pakistan Solar Traders through Solar Panels and Solar Water Heating (Solar Thermal) to warm water for showering and washing reason. We consider it a genuine source of energy for a long time because of the immense measures of energy that is openly accessible. Pakistan Solar Traders is one best solar company in Pakistan.
Disadvantages of Fossil Fuels
1 Contribute to Global Warming. Fossil fuels are not green sources of energy. …
2 Non-Renewable. Fossil fuels are non-renewable energy sources. …
3 Unsustainable. We are spending our fossil fuel reserves in a non-sustainable manner. …
4 Incentivized. …
5 Accidents Happen.
Thus, the cost of fossil fuels continues to increase, which means that they are causing to the environment is the time to look at solar power. Pakistan Solar Traders is one best solar company in Pakistan that distribute solar energy all over Pakistan. Moreover, it is an expert world-leading solar energy company that installs solar home systems. Also, we are professional in providing reliable prices for solar energy solutions!
Advantages:
Solar power is pollution-free and causes no greenhouse gases to emit after installation
Reduced dependence on foreign oil and fossil fuels
Renewable clean power that is available every day of the year, even on cloudy days produce some power Read more
Renewable Pakistan Solar Energy is Free Energy
Solar energy is a renewable source of energy that is sustainable and totally inexhaustible, unlike fossil fuels that are finite. … It considers an environmentally friendly source of energy because it comes directly from the Sun; it does not involve the burning of fossil fuels. Solar system in Pakistan Solar Traders can supply and install a wide range of solar products, Solar Battery, Solar Street Light, solar energy, LED lighting, solar tube well and solar power to reduce your fuel bills by using solar home systems using free solar energy.
Similarly, connect to the grid and provide you with a guaranteed annual return for 25 years. To make your own electricity with solar panels. Moreover, this is the best available investment capital today! We are the best solar company our products can install with the best qualified to international standards.
Pakistan Solar Traders are here to support and advise you in your sourcing. Indeed, the right solar panels and solar inverters at the most competitive price, with one click, makes the best solar company in Pakistan. Also, we make your project a success, providing industry insight.
What makes Pakistan Solar Traders a Best Solar Company?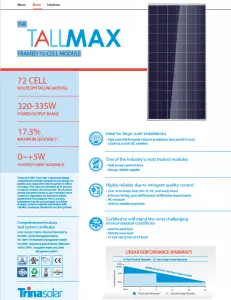 Trina Solar panel 550 WATT MONO PERC Half Cut