Canadian 370 watt solar panel price in Pakistan
The reason the bigger the size makes easier to install and low installation material cost. 370 watt Solar Panel  price in Pakistan a decreasing day by ay. It makes consumers to buy bigger sizes and produce more energy.How much power does a 370 watt solar panel produce?
For example, if a 370–watt (0.37kW) solar panel in full sunshine actively generates power for one hour, it will have generated 370 watt-hours (0.3kWh) of electricity. That same 370–watt panel produces 46 volts, which equals 7 Amps.
How big is a 370 watt solar panel?
1). 370 Watt Poly Perc Canadian Solar Panel. 2) 370 Watt Poly Blue Solar Panel. Size of solar panel can vary according to company to company and poly and mono always.
| Cells | 6 x 12 x 2 |
| --- | --- |
| Dimensions (L x W x H) | 1686 x 1016 x 40 mm / 66.38 x 40 x 1.57 inch |
| Front Load | 6000 Pa / 125 psf |
| Rear Load | 5400 Pa / 113 psf |
| Weight | 18 kg |
Pakistan Solar Traders is one of the few companies in Pakistan to offer a warranty , with their solar panels.
 They also come with a 25-year linear power warranty and a 10-year workmanship and materials warranty.
On the Other hand sizes of panel doesn't make a big difference. We are providing best solar panel price in Pakistan. Now in bigger projects or solar systems, customer and installer mostly prefer to use a 370-watt solar panel. Using Bigger size of solar panel like 540 watt or above solar panel in a system means sometime reduces wiring as compared with smaller panels. Solar in 540-watt solar panel is ideal.
Providing the best solar system in Pakistan with cheapest price. All products related solar are available.
Which solar panel brands and Size are available?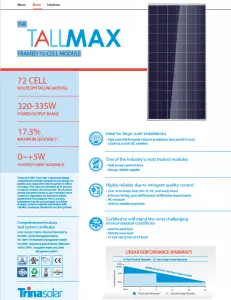 Nowadays, many brands popular like Trina Solar 330,  JA solar 330 Watt, Risen 330 Watt (FRAMED 72-CELL MODULE, Trina 330 watt solar panel) JA, Renesola 270 Watt Solar Panel, Canadian Solar 330 watt solar panel, Astro energy , Tesla 310 Watt solar Panel is available in the market, all of them are not 300 watts, a Grade solar panel of 300 watts or comes in different sizes like 330, 345, 350, 360. It depends on the manufacturer.
Few Feature of 330 Watt Trina Solar Panels
Ideal for large scale installations
• High powerful footprint reduces installation time and BOS costs
• 1000V UL/1000V IEC certified
One of the industry's most trusted modules
• Field proven performance
• Strong, reliable supplier Highly reliable due to stringent quality control
• Over 30 in-house tests (UV, TC, HF, and many more)
• In-house testing goes well beyond certification requirements
• PID resistant
• 100% EL double inspection
Solar panel Prices in Pakistan
| | | |
| --- | --- | --- |
| Solar Panels Quality | Price Per Watt | Life Span of Solar Panel |
| A grade Branded Solar Panel Top 10 | 65 to 70 |  20 to 25 years |
| A Grade China factory made solar Panel |  60 to 65 | 8 to 10 years |
| Local Made Solar Panel/ Lot Solar panels | 50 to 60 | 1 to 3 years |
The 330 W Solar Panel can generate up to 30 kWh of power. It has an excellent energy conversion efficiency and high performance in bad weather conditions. The thickness of its tempered glass, which is 4.0mm, allows for better photovoltaic (PV) cells protection. Structured glass base facilitates better absorption of the sun's rays.
Advantages of 370 W solar panel
The frame is made from anodized aluminum, which enables durability of solar panel.
Operating range is from -10°C (-40°F) to +85 °C (185°F).
Energy conversion efficiency is 18%.
The protection rating IP67.
Every cell of the solar panel has four conduits that noticeably increase wear resistance and equipment efficiency.
Due to a better heterojunction of solar cells, at idle system voltage is increased.
You can purchase 370 W polyperc solar panel in our online store at your convenience. Call us, and our sales managers will answer all of your questions, help you choose the right equipment, and complete your order.