Solar Street Light
Solar street lights are engineered to deliver energy efficiency without sacrificing any performance. These lights are ideal for use in public places like parks, parking spaces and roads. FSL street lights are environment friendly and properly designed that provide long lasting uniform brightness and reduces light pollution.
Description
Solar street lighting
To ensure you're getting the right amount of energy for your application, install the solar lights that best meet your needs. With a range of wattage, batteries and other additions to choose from, you can be sure we have the ideal solar lighting for every project, every time.
How properly designed Solar street lighting can make cities safer, attractive and more livable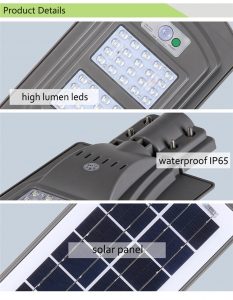 – High bright LED motion sensor solar area light for outdoor security use
– Easy to install, waterproof and durable
– No pollution, energy saving and environmental protection
– Outdoor wall or pole in Plaza, Park, Garden, Courtyard, Street, Walkway, Pathway, Campus, Farm, Perimeter Security etc…
Specifications:
-Power:20W, 40W, 60W
-Lamp beads:* 20smd
CALL US NOW 0333 4888 429