Canadian Solar manufacturing facilities are located in Canada and the largest part of China. Canadian solar plant over 500 MW 2012 in the ontario. As per OHSAS 18001 international occupational health and safety after auditing by the Land quality approved production capacity.
Canada, China, Indonesia, Vietnam and Canada are designed for solar ingots production facilities in Brazil, solar cells, (PV Module), solar power systems and specialized solar products manufacturing.
Environmental and quality management certificate
9001 Quality Management System
ISO 14001, Environmental Management System
ISO / TS 16949, the automotive standard for PV Quality Control
OHSAS 18001, Occupational health and safety
Buy PV Module
To Buy PV panels many peoples think about that which size is is best or suitable for their roof tops. The current most popular size in PV Module 330 watt /345 watt / 360 watt, which is more powerful and easy to install on small space as compared to smaller watt size panels.
PV Module DATA SHEET
345-360 Watt Polycrystalline Solar Panel 5BB
Characteristics
CS3U-345P
CS3U-360P
Maximum Power(Pmax)
345Wp
360Wp
Optimum Operating Voltage/Vmp
38.6 V
38.7V
Optimum Operating Current/Imp
8.94 A
8.78A
Open Circuit Voltage /Voc
46.1 V
46.1V
Short Circuit Current /Isc
9.44 A
9.28A
Module Efficiency
17.39%
15.30%Test
Weight
19Kg
Numbers of cells
144(6*12*2)
144(6*12*2)
Cell dimension(mm)
156*156
156*156
Dimensions(mm)
2000 MM X 992 MM X 35MM
Standard test condition
Irradiance 1000W/m²,Module temperature 25℃, AM=1.5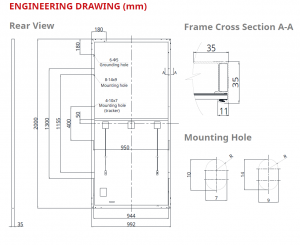 Per Pallet 30 pieces
Per Container (40′ HQ) 660 pieces
* For detailed information, please contact your local Canadian Solar sales and technical representatives.
Click to Download Data Sheet of Poly Perc
Canadian Solar Panel Prices in Pakistan
We provide best PV Module Prices in Pakistan with A Grade Quality.  Canadian Solar panel prices in Pakistan always vary due to USD prices conversion to Pak Rupees.  So setting up a specific prices is very difficult. Just to Give idea of price, it can range from 45 to 55 now a days in year 2019. 
The Canadian PV Module is the best choice to consider a solar system for the home. Most popular solar panel sizes 325 watt  / 345 watt / 360 watt Canadian solar systems for home.
Trina Solar panel | Astro Solar Panel | Tesla Solar Panel | Jinko Solar Panel | Ja Solar Panel | Solar Power Systems |